Ellard News
Our Product Range Consists of:
Flange & Foot Mount Motors
Automatic Swing & Sliding Doors
High Speed Motors
Fire Door Motors
Sectional Door Motors
Direct Drive Motors
Tube Motors
Powered Blinds and Awnings
Barrel Assembly
Sliding Door Gear
Safety Equipment
Intercom Systems/Access Controls
Gate & Barrier Automation
Training Courses
Garage Door Operators
Force Tester Information
BlueForce 
Software
Downloading tests from the gauge memory and the Pocket PC, including via Bluetooth




Viewing the impact curve, and calculating the parameters and averages




Advanced graphics functions (zoom, limit mask, grid)




Automatic evaluation of the measurement result




Graphic representation of the measuring points for all type of doors/gates




Customer and door/gate database management, with Export/Import functions




Automatic test report generation, for enclosure in technical file




Print option for reports and graphs in PDF




Periodic upgrades available on-line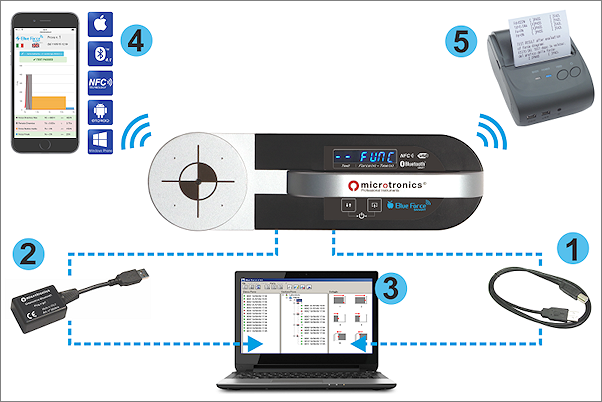 BlueForce Smart Features
The force measurements memorised and visualised in the BlueForce Smart instrument can be transferred to the BlueForce Software using the provided USB cable 
(1)
, or in wireless mode (using the accessory plug'n Go! optional) 
(2).
(3) 
The
BlueForce software
enables management of tests performed within a client database, with the option of printing out reports with relative graphs.
(4) With the Smart functions it is possible to use the full potential of the Bluetooth/NFC technology embedded in the instrument: with the designated Apps the measurements taken can be sent directly to the mobile devices.
(5) With the FTP Bluetooth thermal printer, the receipt of the measurements reports can be printed directly in the place, without using a PC.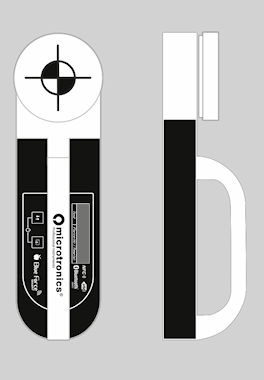 Technical data
Dimensions and Weight:
280x80x50mm – approx. 1.6 Kg
Power supply:
9V alkaline battery
Memory capacity:
80 tests
Force acq. interval:
6 sec, sampling at 1kHz
Force measurement range:
0-2000N (mechanical stop at approx. 2100N)
Force measurement resolution:
1N
Dynamic time measurement resolution:
0.01s
Maximum force measurement error margin: range from 0 to 400N:
+/-1% F.S; from 400 to 1000N: +/-2% F.S; from 1000 to 2000N: +/-3% F.S;
NFC interface:
 standard ISO/IEC 14443 and NFC Forum Type 4
BLE interface:
 Bluetooth version 4.1
USB interface:
 v.2.0 specification compliant
CE-EMC conformity at TUV Rheinland on sample BlueForce instrument serial no.: 00981
Compliant with standards 

EN12453, EN12445, EN16005, EN60335-2-95, DHF TS 011-012, ASR A1.7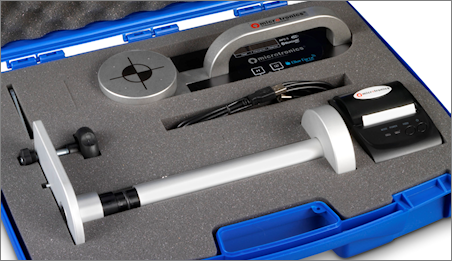 KIT BlueForce Smart
As seen in the 
BlueForce Smart Kit
 chapter, there are three new kits available; the carry case is spacious and can contain the instrument and the optional accessories, e.g. the Straight Extension and the FTP Thermal Printer
Testing is required to prove legal compliance, force testing is only part of he many check that must take place.
Moving parts must be tested include:
Measuring over-travel for hold to run
Measuring forces for limitation of force
Testing light grid or laser scanner coverage and response
Testing electrical circuits
Measuring guard and enclosure apertures and safety clearances
FEATURED IN THIS POST